The open-air Publick Theatre is located on a man-made island in Christian Herter Park (1175A Soldiers Field road), along the banks of the Charles River a few miles west of Boston. WBZtv is just across the street. Our administrative offices are located approximately a half mile west (going away from Boston) of the theatre space at 1400 Soldiers Field Road 2nd floor. This is where our auditions and rehearsals are held. With the theatre and river on your right heading outbound - continue on Soldiers Field until you get to the turnoff to Watertown. Keep to the left side of the ramp, turn left across the overpass and immediately left again to head back onto Soldiers Field Road. 1400 is a 2 story brick building on your right as you approach the inbound ramp to Soldiers Field. Please park on the left side as you face the building. We share the space with the State Trooper who park on the right hand side. There is also parking on Western Avenue and in a satellite lot directly across on Soldiers Field Road.
FROM POINTS WEST (Massachusetts Turnpike, US 90)
Take exit 18 Allston/Brighton. Remain on the right hand side of the off-ramp split until you come to a traffic intersection (Doubltree Suites on the right). Take a left turn onto the access road for Storrow Drive/Soldier's Field Road Westbound (Do NOT cross the river). Once on Soldier's Field Road remain in the middle lane as the road curves around Harvard Athletic Fields. The parking lot entrance will be 500 yards on the right after the athletic fields.
FROM BOSTON (CENTRAL ARTERY). Take Storrow Drive Westbound. Storrow Drive becomes Soldier's Field Road. Follow remainder of above directions.
FROM CAMBRIDGE (US Route 2). Follow signs toward Boston, Soldier's Field Road and Storrow Drive until you cross the Elliot Bridge over the Charles River. Follow signs for Newton and Points west. The entrance to the theatre will be 500 yards on your right.
PUBLIC TRANSPORTATION Take the #86 out of Harvard Square (towards Cleveland Circle) which runs along Western Avenue in Brighton. Get off at the Everett street stop and walk one block towards the river and Soldiers Field Road. Carefully cross at the light or over the pedestrian overpass. The theatre is located at the far right hand side of the parking lot just past the Herter Community Gardens.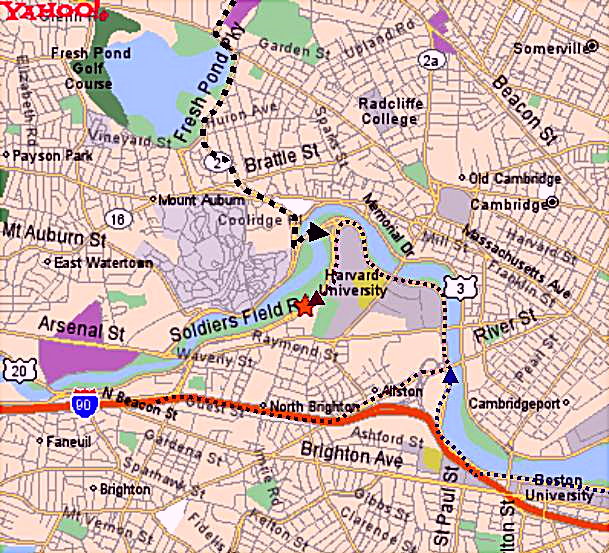 As you enter the parking lot look for the Herter Community Gardens on the far right.